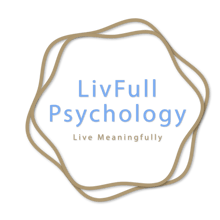 Privacy Policy Notice
What is a privacy notice?
This Privacy Notice is a statement by LivFull Psychology to users of this service and website that describes how and what personal information is collected, used, retained and/or disclosed.
This privacy notice is part of the commitment to ensure that your personal information/data is processed fairly and lawfully.
This notice also explains what rights you have to control how your information is used. You have the right to make a complaint at any time to the Information Commissioner's Office (ICO), who is the supervisory authority for data protection issues in the UK (phone: 0303 123 1113 or at www.ico.org.uk/concerns).
Which Privacy Policy does LivFull Psychology adhere to?
All the information that the client provides will be treated in confidence to comply with UK Data Protection Act (2018), EU General Protection Regulation (GDPR; including UK) and The Health Insurance Portability and Accountability Act of 1996 (HIPAA, US).
What Information does LivFull Psychology collect and use?
LivFull Psychology may collect the following personal information of the client or the client's legal guardian:
Basic details, including name, date of birth, gender/sex, occupation, address, email and telephone number.

Emergency and formal support details, including name and contact of your next of kin, general practitioner and/or psychiatrist.

Any clinically relevant information relating to your needs, presenting problem, or condition that will facilitate delivery of therapeutic intervention or improve effectiveness of therapy outcome. This may also include sensitive data, e.g., sexuality, race, disability.

Financial details for the process of receiving and requesting payments.
How do you collect information?
We collect it through different means including
Direct interactions, including filling out forms on our website, talking to us in person or via telehealth (telephone, videoconferencing), or communicating with us over emails or text messages.

Automated technologies or interactions. As you use our website, we may automatically collect personal data about your equipment, browsing actions and patterns. We collect this personal data by using cookies, server logs and other similar technologies.

Third parties or publicly available sources. We may receive personal data about you from various third parties, including via referral from your insurance company, general practitioner/psychiatrist or healthcare professional.
Why does LivFull Psychology need this information? / How does LivFull Psychology use this information?
We need to collect information about you so that we can:
Communicate with you effectively, respectfully and sensitively.

The psychologist at LivFull Psychology is obliged to keep clinical notes of the key issues relating to your therapeutic needs and care to be able to deliver high standard mental health care. The information will be/is used to facilitate a smooth and effective treatment plan and process, as well as provide the basis for any subsequent reports you or your insurance provider may need or request.

Administrative and service quality improvement so that we continue providing effective communication (e.g., appointment scheduling) and better services.
How does LivFull Psychology store the information?
All electronic data are kept securely at our database using Google Workspace, which complies with GDPR and HIPAA regulations. All Google Workspace Drives have restricted access to only those that need the information, and necessary documentations are password protected. Hard copies will be stored securely in a locked cabin for the duration of need, and subsequently destroyed by a shredder.
How long will LivFull Psychology keep my records?
LivFull Psychology adheres to the British Psychological Society (BPS) and HCPC Practice Guidelines in relation to retention of your information.
Clinical records will not be kept longer than is necessary to fulfil the purposes we collected it for, including for the purposes of satisfying any legal, accounting, or reporting requirements.
Generally, mental health records are subject to special legislation and must be securely retained for a minimum of 7 years after you (if you are over 18) or your child (if they are under 18) turns 18, and 10 years after you cease to be a client for research purposes.
How and/or when do you disclose personal information?
LivFull Psychology strictly adheres to confidentiality, in accordance with HCPC and BPS guidelines. That is, all information disclosed within sessions and the written records pertaining to those sessions are confidential and may not be revealed to anyone without your written permission except where disclosure is required by law.
In regards to children/adolescents, the psychologist/therapist will need to balance the child's need for privacy and the parent/legal guardian's right to information. It is useful if the parent/legal guardian does not ask their child/adolescent what they discussed after each session, unless prompted or encouraged by the psychologist/therapist as part of the treatment process. However, if the child/adolescent wishes to share anything with their parent/legal guardian that is their choice but they should not feel pressured to do so. If it is necessary to refer the child/adolescent to another mental health professional with more specialised skills, LivFull psychologist/therapist will share that information with the client's parent/legal guardian and recommend an appropriate referral. LivFull psychologist/therapist will not share with parents/legal guardians what their child/adolescent has disclosed without the child's/adolescent's consent (This is not applicable if it is a safeguarding concern).
Some of the circumstances where disclosure is required or may be required by law are:
LivFull Psychology has permission from the client (e.g., to share information with relevant 3rd parties such as insurance companies) where there is a reasonable suspicion of child, dependent, or elder abuse or neglect;

Where a client presents a danger to self, to others, to property, or is gravely disabled;

When a client's family members communicate that the client presents a danger to others.
If there is an emergency during therapy, or in the future after termination, where the LivFull psychologist/therapist become concerned about the client's personal safety, the possibility of the client injuring someone else, or about the client receiving adequate psychiatric care, the psychologist/therapist will do whatever they can within the limits of the law, to prevent the client from injuring yourself or others and to ensure that the client receive the adequate medical care. For this purpose, the psychologist/therapist may also contact the person whose name you have provided as your emergency contact.
What are my rights when it comes to my personal information?
If you have concerns regarding the treatment records, you are strongly encouraged to discuss them with your psychologist.
As part of the Subject Access Request (SAR) facet of the GDPR, you have the right to review or receive a summary or copy of your records at any time, except in limited legal or emergency circumstances, or if it is deemed that releasing such information might be harmful in any way. In such a case, the records will be provided to an appropriate and legitimate mental health professional of your choice.
Considering all of the above exclusions, if it is still appropriate, and upon your request, information can be released to any agency/person you specify, unless it is deemed that releasing such information might be harmful in any way.
When more than one client is involved in treatment, such as in cases of couple and family therapy, the records will be released to adults who signed authorisations (or all those who legally can authorise such a release).
However, there may be a ¥2500 or £15 administration charge and these will be provided within 30 days of the request being made.
Cookies
Cookies are text files placed on your computer to collect standard internet log information and visitor behaviour information. This information is used to track visitor use of the website and to compile statistical reports on website activity. You can set your browser to refuse all or some browser cookies or to alert you when websites set or access cookies.
If you disable or refuse cookies, please note that some parts of our website may become inaccessible or not function properly.
Other websites
Our website may contain links to other websites. Clicking those links or enabling those connections may allow third parties to collect or share data about you. We do not control these third party websites, and this privacy policy only applies to this website so when you link to other websites you should read their own privacy policies.
Contacting LivFull Psychology about your information
Please contact us if you have any questions about our privacy policy or information we hold about you by email on karan@livfullpsychology.com.